West Palm Beach Real Estate
West Palm Beach is a city in, and the county seat of, Palm Beach County, Florida, United States. It is one of the three main cities in South Florida. The area that was to become West Palm Beach was settled in the 1870's and 1880's by a few hundred settlers who called the vicinity "Lake Worth Country." The settlers were a diverse community from different parts of the United States, as well as different parts of the world.
Search West Palm Beach Homes For Sale
May 29, 2023
West Palm Beach, FL Beach Real Estate Market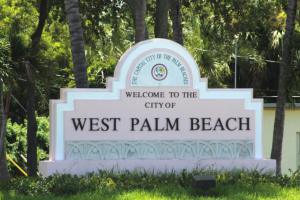 West Palm Beach has a population of 102,436 people and covers 58.2 square miles. Due to the vast area of swampland immediately to the city's downtown, growth occurred to the north and south in a linear fashion. Until the 1960's, the city was no more than several blocks wide, but over a 100 blocks in length. Then, largescale developments finally happened in the west of the city. Many of the homes in West Palm Beach were built in the 1920's boom. It is a great place to live, especially for those who want to be involved in the community. The community is artsy, friendly, and welcoming, which is the reason many people visit West Palm Beach, Florida. Tree lined streets are pleasant and unhurried. There are tours of restored homes, holiday decorating contests, and sophisticated neighborhoods. West Palm Beach is very convenient to shops and cultural amenities and is also near major highways and the Palm Beach International Airport. People who live in West Palm Beach are mostly business owners and professionals, but there are also retirees. It is very attractive to families with kids due to low crime. K-12 public education is administrated by the School District of Palm Beach County, which is the 11th largest school district in the United States. There are two private schools, two Charter and multi-level, and four post-secondary education schools.
West Palm Beach Home Prices
Many of the homes that are built in the West Palm Beach are of the Mediterranean or Mission style, vernacular frame houses or stucco bungalows. The median home price in West Palm Beach is $230,000. The downtown area is flooded with beautiful condos, townhouses, rental apartments and studio lofts in a European style construction. There are units overlooking Town Plaza for those who enjoy being in the middle of things. The city has everything to offer and more, with restaurants from different parts of the world and a lot of entertainment. The city is so very warm and welcoming, which is the reason many people choose to move to West Palm Beach. It is ideal for young professional singles, couples on the go, and young retirees looking to live an urban feel lifestyle. West Palm Beach has everything to offer its residents and is ideal for those who like to walk and grab a cup of coffee and read the paper in the morning. Singles can hang out at Boston's on the Beach and there are plenty of cultural activities to keep everyone entertained. Downtown living attracts many professionals and is a trendy place to live. It has a small town feel and is a place to slow down and relax, yet it is modern and appealing. Whatever your budget happens to be on your new home, you're likely to find a very desirable home in a beautiful location in West Palm Beach.
Moving to West Palm Beach, Florida?
If you plan on moving to West Palm Beach in the near future, we know you'll love this colorful and artsy community. When you're ready to take the next step to finding the best home possible, consider Mizner Residential Realty to help you with the hunt. Contact us today at 561-495-1516.
West Palm Beach Utility Information
Water & Sewer: 561-822-1300
Electricity: 561-494-1040
Natural Gas: 561-494-1040
Phone Landline service: 561-804-4981
Garbage Services: 561-822-2075
West Palm Beach City & Public Services
Administrative Offices: 561-822-1400
Animal Control: 561-233-1200
City Hall: 561-822-1200
Economic and Community Development: 561-822-1550
Finance Department: 561-822-1310
Fire Department: 911 or 561-804-4700
Mayor's Office: 561-822-1400
Parks and Recreation: 561-804-4900
Police Department: 911 or Phone: 561-822-1900
Library: 561-868-7700
West Palm Beach School District Information
West Palm Beach School District: 561-357-7570
Can't find the property you're looking for?
Register with us
so we can let you know the moment that a property matching your specifications hits the market.
Be the first to know!
Contact Us About West Palm Beach Real Estate