Palm Beach Real Estate
The town of Palm Beach is an incorporated town in Palm Beach County, Florida. The Intracoastal Waterway separates it from neighboring cities of West Palm Beach and Lake Worth.
Search Palm Beach Homes For Sale
May 29, 2023
$2,250.75
Avg. $ / Sq.Ft.
$3,295,000
Med. List Price
Palm Beach, FL Real Estate Market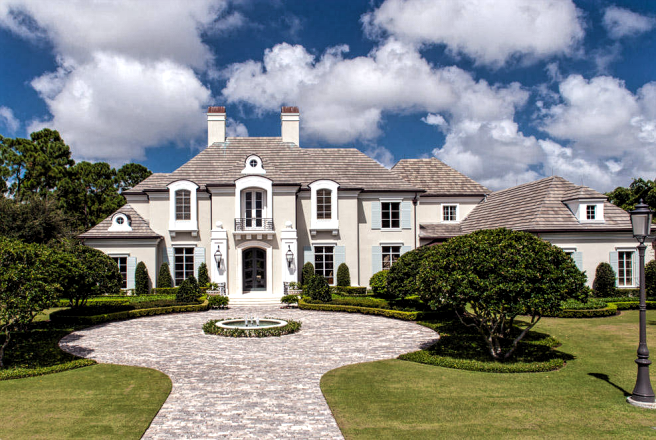 The island of Palm Beach is an incorporated town in Palm Beach County, Florida that is separated by the Intracoastal Waterway from the neighboring cities of West Palm Beach and Lake Worth. This quaint community is fairly large, geographically, but has a relatively low population density. In other words, don't expect gridlock traffic or long lines at the supermarket! Palm Beach has a population of fewer than 9,000 people who are spread out over the town's 10.5-square-mile area.

Instead of congestion, Palm Beach real estate is surrounded by lush, green landscapes, thanks to its tropical rainforest-like climate. Long a favorite spot of the rich and famous (the Pulitzer, Trump, and Kennedy families are just a few who have enjoyed the privacy and grandeur of this paradise, many Palm Beach homes are inhabited by couples and families who don't make headlines, but do have an appreciation for the good life.

Located less than 5 miles from Palm Beach International Airport, Palm Beach real estate also is popular with those seeking a convenient vacation home.
Palm Beach was established as a resort by Henry Morrison Flager, who made the Atlantic coast barrier island accessible via his Florida East Coast Railway. According to settlers, it received its name from the shipwreck of the "Providencia." Early settlers planted coconuts in the area that led to a commercial industry.
Palm Beach, Florida: A History of Grandeur
Palm Beach is steeped in Florida history, as it was founded by Standard Oil founder Henry Morrison Flagler. A native New Yorker, the wealthy industrialist eventually moved to South Florida with the goal to create an "American Riviera" in the Sunshine State. Thanks to his major contributions to shaping South Florida, Flagler is known as "the father of Palm Beach" and "the father of Miami." From Flagler Bridge in Palm Beach to Flagler Street and the Flagler neighborhood in Miami, the name is synonymous with fine South Florida living. Thanks to the diverse array of Palm Beach real estate for sale, you can live in a historically significant community that represents Flagler's vision at its best. As you drive through the picturesque town viewing Palm Beach homes for sale, make sure to take the time to visit the Henry Morrison Flagler Museum, which is located in one of his earliest (and grandest) Palm Beach homes.
Why Should You Look at Palm Beach Homes for Sale?
"What's to love about Palm Beach?" Naturally, you may ask yourself that question as you contemplate whether you should take the time to look at Palm Beach real state for sale. After all, there are many cities in Palm Beach County; eventually you'll need to narrow down your target list. Should you ask that question to locals, they'll answer it with one of their own: "What's not to love about Palm Beach?" For those who can afford one of the many splendid Palm Beach homes located throughout the island, Palm Beach is paradise found.
There's something inherently appealing about living or owning property in a top tourist destination. Palm Beach attracts thousands of tourists annually. They're drawn to visit beautiful white sand beaches, upscale dining and luxury boutiques. Whereas the tourists' vacations must come to an end, when y ou buy Palm Beach real estate you can live your vacation each and every day. Families and retirees, alike, thrive on fresh air, ocean breezes, warm year-round Florida sun. Palm Beach residents take pride in knowing their home is truly second to none.
Dive into the Palm Beach Lifestyle by Purchasing Palm Beach Real Estate
As one would expect from an exclusive, upscale community, the town of Palm Beach offers residents many services, and recreational options (including a Tennis Center), and hosts special events and workshops throughout the year. When you move into Palm Beach real estate, expect privacy, tranquility, and a calm oasis from the hustle and bustle of larger cities. Many homes are within a short walk from the town's 16 miles of white sandy beaches.
Visit Worth Avenue and Clematis Street for the many galleries, upscale shopping and dining, and people watching. You never know who you will run into here visiting Mar-a-Lago spa or staying in one of the lavish and highly exclusive resorts in town! Families will appreciate that Palm Beach is a very safe community with top-notch schools.
Can you Afford Palm Beach Real Estate?
Palm Beach is a prestigious and affluent enclave; the median home price in Palm Beach is $939,900. All who have already purchased Palm Beach homes will likely attest to the fact that the quality of life in this unique community is priceless. Palm Beach homes range in style from exquisite, luxurious waterfront estates, single-family ranch-style homes, midtown condominiums and townhomes, and oceanfront and lakefront condominiums. Many Palm Beach homes have sweeping views of some of the most beautiful beaches in the nation.
Do you Wish to Live in Paradise (AKA Palm Beach, Florida)?

If you are interested in viewing Palm Beach homes for sale or any other Palm Beach real estate, we are standing by to show you this vibrant luxurious enclave and the fabulous Palm Beach homes that can be yours. When you're ready to take the next step to finding your next home, the friendly team at Mizner Residential Realty is here to help you with the hunt. Contact us today at 561-495-1516.
Moving to Palm Beach, Florida?
If you plan on moving to the magnificent Palm Beach area in the near future, we know you'll love the unbeatable sights, sounds, and fabulous properties here in this tranquil paradise. When you're ready to take the next step to finding the best home possible, consider Mizner Residential Realty to help you with the hunt. Contact us today at 561-495-1516.
Palm Beach Utility Information
Water & Sewer: 561-740-4600
Electricity: 561-832-0872
Natural Gas: 1 863-293-2125
Phone Landline service: 561-547-8637
Internet, Phone & Cable Television: 561-653-4900
Garbage Services: 561-838-5440
Palm Beach City & Public Services
Administrative Offices: 561-838-5400
Animal Control: 561-233-1200
Business Licenses: 561-355-2272
City Hall: 561-838-5410
Economic and Community Development: 561-835-1008
Emergency Management Office: 561-227-6304
Finance Department: 561- 838-5444
Fire Department: 911 or 561-748-4730
Mayor's Office: 561-838-5400
Parks and Recreation: 561-966-6600
Police Department: 911 or Phone: 561-838-5454
Library: 561-894-7500
Palm Beach School District Information
Palm Beach School District: 561-434-8700
Can't find the property you're looking for? Register with us so we can let you know the moment that a property matching your specifications hits the market. Be the first to know!
Contact Us About Palm Beach Real Estate