Manalapan Real Estate
The town of Manalapan is a coastal town in southern Florida that has an incredibly small population of 429 people. There is only one neighborhood comprising the town and it is one of the smallest communities in the state. The area has some of the highest value homes in the entire nation.
Search Manalapan Homes For Sale
May 29, 2023
$3,026.67
Avg. $ / Sq.Ft.
$33,200,000
Med. List Price
Manalapan, FL Real Estate Market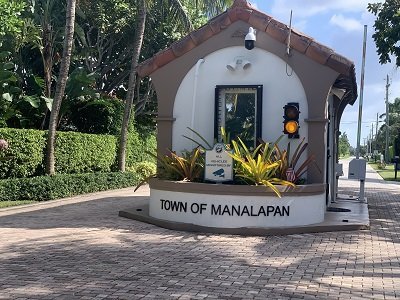 The small coastal town of Manalapan located just south of West Palm Beach, Florida, in Palm Beach County is somewhat rare in that it can be described with definitive adjectives as opposed to vague generalities. If you are considering looking at Manalapan real estate for sale, there are a few key facts you need to be aware of before you spend any time searching the MLS for Manalapan homes for sale. You need to know that Manalapan is:

· An extremely small town (the latest Census data notes its population is just 429 people.)

· An extremely quiet town. Even during the height of tourism season, don't expect an abundance of traffic or noise.

· An extremely exclusive, expensive town. Price tags for Manalapan real estate for sale in the town's only neighborhood are some of the highest in the entire nation.

Now that you know the pertinent information about Manalapan real estate, if you do have the means to afford any of the estate-like Manalapan homes in this community, you are only one Manalapan real estate transaction away from living in what many consider the most beautiful community in the Coastal United States.

Welcome to Manalapan, Florida: Historical, Beautiful, and Luxurious!

If you are looking for South Florida real estate "near the action" and moments from strip malls, fast-food joints, and big-box chain stores, keep looking! Manalapan real estate doesn't check any of those boxes. If, on the other hand, you prefer to be surrounded by peace and quiet and unspoiled natural views rather than commerce, Manalapan homes will deliver your desired ambiance.

This tidy nautical town on the Intracoastal was incorporated in 1931 by the renowned Commodore Harold Vanderbilt who envisioned an exclusive enclave where the well-heeled could enjoy South Florida's most idyllic location. The town comprises two distinct areas connected only by water. Manalapan and the community of Lantana share a section of Hypoluxo Island and the Boynton Inlet. The ritzy section (and most of the exquisite Manalapan homes) are located close to the southern tip of the island. Also there, you'll find the highly exclusive Eau Spa, which delivers the ultimate luxurious spa experience, and Plaza Theatre, the top draw for in-town entertainment in the form of artistic musicals, plays, and musical acts.

Purchasing Manalapan Real Estate is a Privilege Only Few Achieve
Manalapan, Florida is an exclusive place to call home; rightfully so, thanks to its serene and private waterfront location nestled between Ocean Ridge to the South and Palm Beach to the North. Additionally, the fact that the overwhelming majority of Manalapan real estate is owner-occupied means there are very few rentals offered in this exclusive town. Those Manalapan houses that are rented out are rented out during the high season (aka vacation season.) For a while the population grows and is fully occupied, but during the off-season, the Manalapan homes are once again owner-occupied and residents see only familiar friendly faces as they conduct their day to day business.
If your budget can handle the high prices of Manalapan homes for sale, I'd love to be your guide and show you the Manalapan real estate ranging from stunning oceanfront mansions to luxurious intracoastal ranch style homes. Manalapan homes for sale are few and far between, but outstanding. To search available Manalapan real estate, peruse our site. Then when you find Manalapan real estate for sale that you're interested in viewing in person, I'd love to help. I welcome your phone calls (561-495-1516 or 561-400-3737 cell) or emails me, at your convenience.
If you'd like to see available properties in Manalapan, you can search real estate listings here. To start working with an agent right away, I'd love to help. #var-phone-number# or email Jeremy Olsher at your convenience.
Can't find the property you're looking for?
Register with us
so we can let you know the moment that a property matching your specifications hits the market.
Be the first to know!
Contact Us About Manalapan Real Estate