Gulf Stream Real Estate
Gulf Stream is a small, picturesque beachside town located south of Boynton Beach and north of Delray Beach in Palm Beach County, Florida. Although it is less than a square mile in size, Gulf Stream boasts some of the most beautiful views on the East Coast. Tropical and exclusive, Gulf Stream is nestled between the Atlantic Ocean to the east and the Intracoastal Waterway to the west. Home to only about 800 residents in all, Gulf Stream is a highly desired community, known for its natural beauty.
Search Gulf Stream Homes For Sale
June 6, 2023
$1,973.80
Avg. $ / Sq.Ft.
$4,500,000
Med. List Price
Gulf Stream Real Estate Market Overview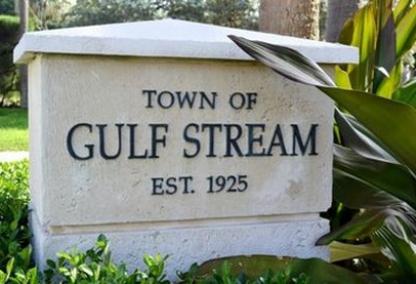 Gulf Stream, Florida is a cozy, picturesque beachside town located in Palm Beach County just south of Boynton Beach and north of Delray Beach. Gulf Stream is tucked away between the Atlantic Ocean to the east and the Intracoastal Waterway to the west. If you seek a serene, peaceful, quiet, and elegant quality of life on Florida's east coast, Gulf Stream homes deliver in spades.
You've probably heard it said that, "Great things come in small packages." Gulf Stream is a stellar example that this is true! Although Gulf Stream is less than a square mile in size, it boasts some of the most exquisite views on the entire East Coast. Gulf Stream homes are surrounded by tropical landscaping, mature palm and banyan trees, citrus trees, birds, and beauty. In the real-estate world, we sometimes tend to overuse the word "exclusive." Rest assured; when we tell you that Gulf Stream homes are exclusive, we are not exaggerating. Simply take a look at Gulf Stream real estate listings and you'll understand. That is, take a look at Gulf Stream real estate listings if you can find them! This slice of paradise is home to fewer than 1,000 residents. When new listings of Gulf Stream real estate for sale are announced, they tend to not last long. Why? For those with the means, the highly desirable community of Gulf Stream, surrounded at every turn by natural beauty, represents the ultimate in find South Florida living.
Gulf Stream, FL Real Estate for Sale
Known for its natural unspoiled beauty and relaxed beachfront lifestyle, Gulf Stream was once primarily a winter resort town for the very wealthy. The very wealthy still make up a huge percentage of the population here, but these days, many of these residents live her year round. They've realized that once they arrive in paradise, there's really no reason to leave it for a significant amount of time! A short distance from Palm Beach and Fort Lauderdale airports, many residents prefer to make their Gulf Stream homes home base, and to summer elsewhere for the small window of time in which South Florida's temperatures exceed the mild and pleasant.
Gulf Stream real estate options run the gamut from resort-like oceanfront estates with backyards of pristine white sand, high-rise condominiums with balconies overlooking the crystal blue Atlantic Ocean, and lavish homes on the Intracoastal Waterway that are perfect for entertaining and provide deep dockage for even the largest boats and yachts.
When merely living in "Palm Beach County" won't do, when buying a "house" won't do, when only the most lavish, private estate home in Palm Beach County's toniest, most exclusive community will do, look to Gulf Stream real estate for sale. As a discriminating buyer, you will quickly discover that the only properties you should be viewing are Gulf Stream homes for sale. The owners of fine Gulf Stream homes comprise a highly selective club. Contemplate for a moment that exclusive country club you belong to. How many members does it have? Definitely far more than the number of Gulf Stream real estate owners! We told you we were not exaggerating the exclusivity factor! The sought-after enclave of Gulf Stream is private, secure, and represents the pinnacle of fine south Florida living.
What do you consider the ultimate in Gulf Stream real estate? Gulf Stream real estate for sale, as limited as the inventory is, is highly diverse. You will find expansive homes with waterfront views, estate homes with deep-water frontages suitable for mooring your large yacht in protected waters free of fixed bridges, and secluded home fronts that are private yet just minutes away from the hustle and bustle of Delray Beach's vibrant downtown. Whether your taste in Gulf Stream homes leans toward the modern and minimalist or expansive Mediterranean or Italianate estate homes, you will find impeccable Gulf Stream real estate options that meet your unique vision of what the "ideal" home looks like. When you live in Gulf Stream, Florida, you are truly able to immerse yourself in living the Florida dream. Your friends and loved ones will clamor for an invitation to visit!
Popular Seasonal Events Near Gulf Stream
In Gulf Stream, every day is a great day. Each year, though, residents anticipate a full calendar of fun annual events. In December, get into the holiday spirit with Boynton Beach's Annual Holiday Parade. For the last 40-plus years, this free family event has featured colorful floats and local marching bands, musicians and dance troupes.
In February, head to Lake Worth or Delray Beach's annual Garlic Festival or check out both. In April head to the Delray Affair in downtown Delray Beach on Atlantic Avenue. Be sure to keep an eye out for announcements about the dozen-plus special dining, art, and music events throughout the year. Never a dull moment!
Things to Do Near Gulf Stream
Gulf Stream is a quiet, tucked away residential community, but it is close to the restaurants, shops and nightlife of Delray Beach. Named "The Most Fun Small Town in America," there is certainly no shortage of things to do in Delray Beach. Whether you decide to spend a few hours exploring the Morikami Museum and Japanese Gardens, catch a professional match at the Delray Beach Tennis Center, or simply enjoy a leisurely meal on the patio of a bistro, Delray Beach delivers.
For delicious food, be sure to dine at one of these Delray Beach restaurants: Jimmy's Bistro, Brule, Deck 84, Elisabetta's, Racks, 50 Ocean or Cut 432. We also recommend the following restaurants in Boynton Beach: The Backyard, Hurricane Alley, Sushi Simon, Prime Catch and Two Georges.
Can't find the property you're looking for? Register with us so we can let you know the moment that a property matching your specifications hits the market. Be the first to know!
Contact Us About Gulf Stream Real Estate